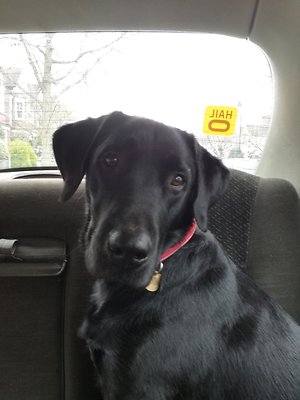 Getting to know the Petserve Family

All our dogs are real individuals. We love all the little quirks of their characters and how they interact in the Petserve family group. We would like to share this with you by featuring one pet each week so that you can get to know all the Petserve Pals a little better......Petserve portraits starts this week with....Cassie.
Petserve Portraits: Cassie

Cassie is a lively Staffie cross adopted from Battersea Dogs Home 8 years ago, just before Christmas. Her owner describes her as a ' real handful' for the first two years, only kept in check by her cat, but she has since learned to contain her bubbling personality, when need be. She is described as a 'Girly girl' who loves to go shopping with her Mum and running with her Dad, and a good guard dog 'when she remembers'. She is a kind and caring dog who makes friends easily.
Petserve Portraits: Lolly
The loveable Lolly is a gorgeous Labradoodle; full of energy and high spirits. She combines the sweetness of the Labrador with the intelligence of the Poodle, as befits her breeding, but she seems to have the speed and agility of a greyhound thrown in for good measure!
Petserve Portraits: GEORGE

George is the most senior of the Petserve family having been with us for most of his 6 years. He is dependable and gentle; playing his role of 'big brother; to new recruits and showing them the ropes in his quiet and unassuming way.
Petserve Portraits: Poppy
Dear Poppy is a gentle, sweet girl. She was re-homed from Battersea Dogs & Cats Home and took some months to gain confidence on her walks with the other dogs but now is happy to be part of the Petserve family
Petserve Portraits; The Shepherds
Honey and Shadows' owners support a Charity which rescues and re- homes these beautiful dogs....They have given a loving home to many dogs over the years. The first to join the Petserve family was the exceptional Jade...
Then came Honey and Bea, who had lived their lives in an outside kennel until this point and were nervous and shy to begin with but quickly learnt to enjoy the pleasures of running free in the park and gained in confidence with people and other dogs at a remarkable rate.
Now Honey has been joined by the young and handsome, Shadow...Before coming to his new home he was never taken out for walks so now he enjoys to run and stretch his legs and makes the most of every moment of his Petserve walks
PETSERVE PORTRAITS: BOOTS
Boots is a beautiful English Springer Spaniel with all the endearing qualities of his breed; lively, loyal and loveable!
Now the Great-Uncle of the Petserve family, rather deaf, a little unsteady on his legs, and sometimes in need of a little help to jump into the cab, Boots is always enthusiastic about his walks. He makes his way happily around the park, if a little slower than in his younger years.
PETSERVE PORTRAITS : Lily
Lily is a lovely Jack Russell puppy; always full of fun and ready for adventure!
PETSERVE PORTRAITS : INDY
Indy makes up the second half of our duo of cheeky puppies. The mischievous nieces in the Petserve family they spend every moment together racing around and playing as though there was no tomorrow!
PETSERVE PORTRAITS: Rusty
This lovely little chap came all the way from Romania to join the Petserve family and is gradually growing in confidence He loves the other dogs and springs around joyfully when he sees them!
Petserve Portraits: Benji
The gorgeous Benji is a Greyhound recently re- homed after a life ' on the track,'
He is gentle and affectionate to everyone we meet in the park...canine or human!
Petserve Portraits; Toby
Dear Toby ( Here shown with his buddy, Lily) is a small dog packed full of charm and character!