Friendly & Reliable pet care service
How did I become a dog walker and cat feeder for the Dulwich, West Norwood and Norbury area of South London?
Owning a dog is a big responsibility and it can be hard to be sure that your pet is always well provided for when you are not there to do it yourself. This was the problem I faced back in 1996, when looking for care for my own dog, Jessie. My youngest daughter was starting school and I was considering returning to work. Unable to find someone to provide a suitable level of care, I decided to set up my own company and become a dog walker myself to fill this gap.
Having spent my life working in animal husbandry, I decided to brush up my dog handling skills, from the level of a lifelong dog owner to a professional, by studying with Jan Fennell, The Dog Listener. This enabled me to develop a method of handling a group of dogs who were happy and content, as well as being safely in control. I then bought a vehicle in which they could travel in comfort; the roomy and airy Petserve Taxi and I was ready to start. I soon realised that cat owners were also in need of a regular, reliable service to take care of their pets when they were away from home and so I added this to the Petserve package of services.
I wished to develop a Cat Feeding and Dog Walking Service which really treated each individual pet with the care it would receive from it's owner. Looking around in the local parks I saw dog walkers who took out large groups of dog without real care for the individual. I heard stories of Cat Feeders who also treated the pets and houses in their care without the respect they deserved. I felt there were owners out there who would appreciate a company which took pet care seriously and provided an efficient, reliable and truly caring service.
With this in mind, I vet new dogs very carefully before agreeing to their joining my group and ensure that the walk they are taken on is appropriate to their age and fitness. I walk only small groups of a maximum of 6 dogs so that I can ensure that each individual dog is safe and happy at all times.
'Pick ups' and 'drop offs' are taken very seriously, so that the dogs are safe at all times, and a check made that fresh water is available when they get home. Equally the security of your home and keys is treated with extreme care; I appreciate that you are placing great trust in me by giving me access to both your home and best friend and never forget what a big responsibility that is. Dogs are transported in the distinctive Petserve Taxi, where they have plenty of room and fresh air and water is always available. In walking only small groups I can be sure that the dogs are never traveling for long which is so important for their well-being, particularly in the heat of summer.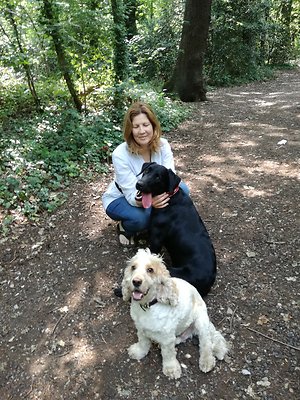 I take my responsibilities, as a dog walker, in the park seriously too, picking up after the dogs and treating other people in the park with respect. I am licensed to walk in local parks and am at the forefront of the movement for dogwalkers to behave with professionalism and responsibility. I keeps a close eye that the high standards and reputation that Petserve has built up over 20 years is maintained.


In 2016 Ruth joined the Petserve team and she has proved to be a valuable asset in maintaining these values with her professional attitude and dedication to the welfare of the pets we care for.

The area covered for Cat Feeding is Norbury and for Dog Walking I cover Norbury, Streatham, West Norwood and Dulwich, South London I walk in Dulwich Woods, Streatham Common and Norbury Park